Sun. 10/7/2022 : Triatlon STML
As from 7 March on : 'Wegeniswerken Pontstraat & Oude Pontweg'
Wegeniswerken Pontstraat en Oude Pontweg 
Op deze pagina vindt u alle informatie en de laatste stand van zaken met betrekking tot de werken in de Pontstraat en Oude Pontweg.
Free use of the club's TrackMan
Update
Reservations by members are possible on :
weekday

s : between 12h and 14h, and after 18h

weekends

: please contact either Sophie (0477 50 18 68) or Pierre (0483 00 11 87)
---
Conditions d'utilisation du Trackman
Qui peut l'utiliser ?
Réservé exclusivement aux membres du RLGC.
Tout membre qui a passé le test d'acceptation chez Sophie Leten ou chez Pierre Evrard, à savoir un minimum d'une heure pour maîtriser à la fois l'installation et l'utilisation du matériel ainsi que l'interprétation des mesures.
L'appareil peut être utilisé par maximum 2 personnes en même temps.
………..
Gebruiksvoorwaarden van de Trackman
Wie mag het gebruiken?
Exclusief gereserveerd voor de leden van de RLGC.
Elk lid dat geslaagd is voor de aanvaardingstest met Sophie Leten of Pierre Evrard, d.w.z. minimum één uur om zowel de installatie, het gebruik van de apparatuur als de interpretatie van de metingen onder de knie te krijgen.
Het apparaat kan door maximaal 2 personen tegelijk worden gebruikt.
……….
Wenst U meer te weten ?  klik hier
Pour plus d'informations ? cliquez ici
How you cancel your tee-time
Automated External Defibrillator (AED) On Site
Bescherm je tegen tekenbeten !
Met het stijgend aantal tekenbeten neemt ook het aantal mensen met de ziekte van Lyme toe.
Bescherm je als golfer dus goed tegen deze parasiet!
Dit kan eenvoudig door het dragen van kledij die het hele lichaam bedekt en door het controleren op aanwezigheid van teken nadat je een rondje golf gespeeld hebt.
Gebeten ?    Teken beginnen pas na enkele uren bloed te zuigen waardoor ziektekiemen kunnen worden doorgegeven.
• Verwijder de teek zo snel mogelijk (binnen de 24 uur) om risico op besmetting te beperken.
• Neem de kop van de teek vast met een pincet en draai de teek eruit. Doe dit met een speciaal tekenpincet of tekenhaak, verkrijgbaar in de apotheek.
• Druk het lijfje niet in en neem de teek in zijn geheel weg. Blijft er een deel van de kop achter, wacht dan af en behandel de plaats met een eenvoudig ontsmettingsmiddel.
• Ontsmet de wond in elk geval nadien grondig.
• Contacteer een arts bij twijfel of vermoeden van besmetting.
• Opgelet: verdoof de teek niet vooraf met ether. De teek kan hierdoor besmet materiaal uitstoten!
New Season ; New Rules ; New Scorecard ; New Penalty Zones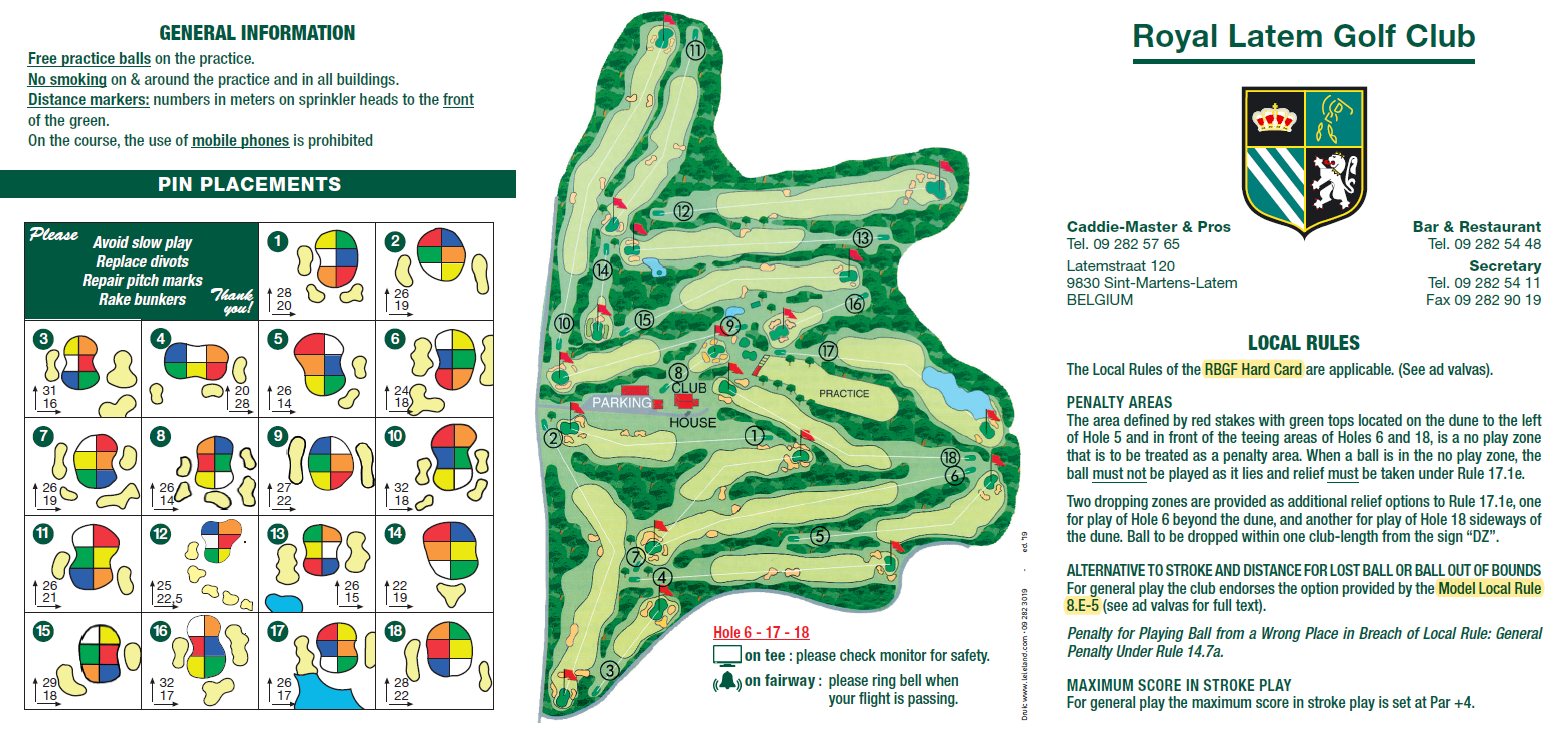 New Rules of Golf 2019
News from the Royal Belgian Golf Federation
Le Golf Quiz est à nouveau en ligne sur notre site: www.golfbelgium.be
Vous le trouvez sous la rubrique "jouer" et puis sur "testez vos connaissances".
Les questions ont été adaptées aux nouvelles Règles 2019.
————————————————————————————————————————————
De Golf Quiz is terug online op onze site. www.golfbelgium.be
U kan het vinden onder het onderwerp "golfen" en dan vervolgens onder "test uw kennis".
De vragen zijn aan de nieuwe Regels 2019 aangepast.
Now available in Pro Shop (14 eur) : French + Dutch edition
New in 2018 : The Belgian Golf League
Royal Latem GC participe à The Belgian Golf League

Une nouveauté 2018 !
Belgian Golf League ?
Différents clubs se rencontrent tout au long de la saison, comme dans d'autres sports (football, hockey, etc.), à travers leurs meilleurs joueurs messieurs.
Cette compétition se déroulera chaque année (de mai à novembre), sous la forme d'un championnat simple et linéaire.
Chaque rencontre se jouera en confrontation directe entre 2 clubs en single Match Play Brut. Chaque équipe est composée de 5 joueurs, avec un handicap maximum de 12,4.
Le match est joué dans l'un des deux clubs en compétition. Le choix du parcours est défini par un tirage au sort (50% Home – 50% Away).
Il y a 11 clubs concernés en 2018 :
– Golf Club 7 Fontaines
– Royal Golf club de Belgique
– Golf de La Bruyère
– Cleydael Golf & Country Club
– Golf de L'Empereur
– Royal Golf Club du Hainaut
– Golf Château de La Tournette
– Golf de Rigenée
– Rinkven Golf Club
– Royal Waterloo Golf Club
– Royal Latem Golf Club
Notre team captain : Julien Richelle
julienrichelle@hotmail.com
0474/60.15.23
En annexe vous trouverez plus de détails ainsi que le planning.
Les heures de départs de ces rencontres seront en principe 8h > 8h30.
Nous vous invitons à venir supporter notre équipe !
Henri Cnops
Captain
Welcome
Dear Members,
Welcome to the brand new website of your Royal Latem Golf Club : created on a new platform, offering responsive screens, GDPR ready, …
Many thanks to my colleagues who participated in bringing this project to life :
Michel Verheughe, general coordination ; Michel Willems, legal/GDPR ; Pascale Reyniers & Henri Cnops ; and especially to Christophe Bonte, our dedicated & skilled webmaster.
A website is a continuous work in progress, it never ends , it's never finished.
Therefore : ideas/suggestions/comments ? : don't hesitate !
Hope to see you soon,
Vincent Boes
President
after hours green fees ?