Interclubs 2021 : Seniors
Interclubs Coordinator
HALLUMS JAMES
mobile :0473513248
email :hallums2@outlook.com
Interclubs Dinner
15/10/2021
SENIORS
2021

Ladies

I

Ladies

II

Men

I

Men

II

DETAILS

DIV 1

DIV 3

DIV 5

DIV 1

Team
Captain
D. Manchoulas
S. Meert
R. Christeyns
Ph. Croene
Fr. Hauspy
Thu. 9/9
at
vs
result

Damme

vs
Limburg
2 – 3

Mont Garni

vs
Millenium :
no show

Ostend

vs
Bruyère
forfait

Naxhelet

vs
Ternesse
1 – 2

Wed. 15/9
at
vs
result

Lanaken

vs
Sart-Tilman
1 – 4

Damme

vs
Kluizen
3 – 0

Limburg

vs
Mont Garni
1 – 2

Pierpont

vs
Brabantse
1 – 2

Tue. 21/9


at


vs


result

Tournette
(Anglais)
vs
Waterloo


0 – 5

Puyenbroeck

vs
Oudenaarde
0 – 3

Ieper Open

vs
Winge
3 – 0

Mergelhof

vs
Ravenstein
2 – 1

Wed. 29/9
(Semi-finals / Play-offs)
at

vs
result

Oudenaarde

PLAY-OFF
vs Ravenstein

x
x

Rougemont

PLAY-OFF
vs Sart-Tilman

Tues. 5/10
(Finals)
at

vs
result
x
x
x
x
RANKING
NEXT YEAR
4th place
Div. 3
3rd place
Div. 5
Honorary Consuls Prize '21
Interclubs 2021 : Men & Ladies
Interclubs Coordinator
James HALLUMS
0473 513 248
hallums2@outlook.com
Interclubs Dinner
15/10/2021
Men &

Ladies

2021

Ladies

I

Ladies

II

Ladies

III

Men

I

Men

II

Men

III

Men

IV

 

TOGETHER WE CAN… !

DETAILS

DIV 1

DIV 1

DIV 1

DIV 2

DIV 1

Team
Captain
F.Meert
R.Guérin
R.Christeyns
P.Richelle
Fr.Ros
H. Lesaffre
J.Hanet

Sat. 4/9

at
vs
result

Rinkven

vs

AM : Waterloo
4-1

PM :
Sart-Tilman
4-1

Keerbergen

vs
Ravenstein
1-4

Ragnies

vs
H.-Chapelle
3-2

Rigenée




 

Bossenstein

vs
Cleydael
2-3

Sun. 5/9

at
vs
result

Rinkven

vs
Bruyère
3-2

Keerbergen

vs
7-Fontaines
4-1

Ragnies

vs
Antwerp
0-5

Rigenée

3rd place.

Men I enter the first Division !

Bosse-nstein

vs
Waterloo
3-2

Sat. 11/9
at
vs
result

Ravenstein

vs


AM : Antwerp
4-1

PM :
Empereur
3-2

Brabantse

vs
Beveren
3-2

Fl. Nippon

vs
Keerbergen
3-2

7-Fontaines

vs
Mont Garni
3-2

Sun. 12/9
at
vs
result

Ravenstein

vs
Tournette
2-5

Fl. Nippon 

vs
Waterloo
2-3

7-Fontaines

vs Rinkven
2-3

Sun. 26/9
at
vs-
result
 

RANKING




NEXT YEAR

4th place
Div. 1
6th place
Div. 1
3rd place
Div. 1
3rd place
Div. 1
4th place
Div. 1
Florent van Aubel | Red Lions : Olympic Champions
BCKO Belgian Club KnockOut '21
UPDATE 22/07
Wegens de onvoorziene omstandigheden van vorige week en ongelooflijk grote hoeveelheden water, werden vele golfbanen gesloten of stonden deze zelfs onder water. Daarom hebben we besloten om de Pre-Rounds met twee weken te verlengen om iedereen de kans te geven zijn wedstrijden te voltooien. Hieronder vindt u het nieuwe schema:
Pre-rounds: 28 juni – 22 augustus (23u59)
Ronde van 16: 23 augustus – 5 september (23u59)
Ronde van 8 (Kwartfinale): 6 september – 19 september (23u59)
Ronde van 4 (halve finale): 20 september – 26 september (23u59)
Ronde van 2 (Club Finale): 27 september – 3 oktober (23u59)
Alvast bedankt voor jullie begrip en bij verdere vragen hoor ik het graag!
Met enthousiaste groeten,
Sophie Van de Vorst
sophie@wearematchplay.com
Account Manager
---
ENTRIES ARE CLOSED !
If you do not have the WAMP App yet, download it here and make sure to enter your personal golf Federal number. This Federal number will link you to the competition.
IOS : https://apps.apple.com/nl/app/we-are-match-play-wamp/id1343935072
Android : https://play.google.com/store/apps/details?id=com.wearmatchplay.wamp.wamp
Participation fee per player of 10 eur for WAMP organisation ; via RLGC BE86 0682 4503 4050.
---
How you cancel your tee-time
after hours green fees ?
Clubs Champions 2021
Automated External Defibrillator (AED) On Site
CLUB INFO 2020/01
Chers membres, beste leden,
HAPPY NEW YEAR !
New Year Competiton : Sun. 12/1 : please register via i-Golf
New Year reception open to all members : Sun. 12/1 – 16h15
Hierbij de laatste info's van de club :
SPORTIVE
 Senioren 75+
Vanaf heden zullen buggies voor Senioren 75+ vaker toegelaten zijn, mits de omstandigheden het toelaten én met akkoord door de greenkeeping.
 P.A.T. Players Assistant Team
Momenteel zijn er al 19 leden die zich als vrijwilliger aangeboden hebben in de P.A.T.
De uitleg en de lijst van de P.A.T. hangt ad valvas.
Philippe Buysse en de caddiemasters zijn ook opgenomen in de lijst van P.A.T.
 Bezoekers
Vanaf heden is de maximum handicap 35 voor de bezoekers/genodigden. (week + weekend)
 Winter Cup
Kaarten voor de Winter Cup moeten ALTIJD op voorhand aangevraagd worden. De aanvraag van een kaart na het spelen zal RESOLUUT geweigerd worden.
 Competitiekalender
Vanaf dit jaar zal de kartonnen versie van de competitiekalender niet meer opgestuurd worden, maar zal deze te uwer beschikking zijn bij de caddiemasters.
BÂTIMENTS
 Vestiaires dames
Les travaux de rénovations des vestiaires dames évoluent bien.
Pour éviter les problèmes d'humidités qu'il y avait dans le passé, l'entrepreneur Patrick de Pauw secondé par l'équipe du Green Team refont le roofing. Pour cela certains rhododendrons seront déterrés, mais replantés après ces travaux.
ADMINISTRATIE
 Lean Team
CLUB INFO 2019/10
Chers membres, Beste leden,
Voici les dernières infos du club
SPORTIVE
Nouveaux capitaines et responsables
Paul De Wagheneire devient notre nouveau capitaine et James Hallums le vice-capitaine.
Régine Saverys devient notre nouvelle lady-capitain.
Denis Roegiers et Rose Christeyns deviennent les nouveaux responsables seniors.
Un tout grand merci à Henri Cnops, Brigitte Nelen ainsi qu'à Philippe Francois & Deirdre Manchoulas pour leur engagement et leur dévouement pour les membres et le club.
P.A.T. Players Assistant Team
Depuis le 7 septembre le PAT a débuté ses activités.
Le PAT est une équipe d'une dizaine de membres * qui s'engagent pendant certains concours, à assister les joueurs en cas de problème.
Un PAT veille au bon respect de l'étiquette et des règles de golf ainsi qu'au respect de la vitesse de jeu. Il est reconnaissable à une veste orange fluo.
Le n° de GSM du PAT en cas de problème sur le terrain : 0468 30 13 83
* si vous voulez vous engager dans le PAT, veuillez contacter le capitaine.
TERREIN
Er werd een nieuwe Kubota tractor aangekocht.
De bunkerwand van hole 14 mist nog wat aan stabiliteit en sommige ballen "pluggen" er nog in. Dit probleem zal deze winter worden aangepakt.
Bepaalde aanpassingen aan de practice worden momenteel bestudeerd.
ADMINISTRATION
Lean Team
Gilles Pieters devient Head Caddiemaster.
Brent Flamey remplacé John De Bruycker.
Johan Palsterman a décidé de prendre sa retraite le 1 mai 2020 et Yves Cnudde le remplace.
GEBOUWEN
Vestiaire dames
De verbouwingen van de vestiaires zijn op 7 oktober gestart.
De vloerbekleding, de betegeling, de sanitaire toestellen, het meubilair, de verlichting en de lockers worden vernieuwd zodat we tegen de start van het volgende golfseizoen kunnen beschikken over aangename en comfortabele kleedkamers die de Royal Latem Golf Club waardig zijn.
Tijdens de werkperiode kunnen alle dames de twee bezoekers-kleedkamers gebruiken, gelegen op de 1ste verdieping boven de clubspark.
Geurhinder
Na diepgaande en verschillende onderzoeken werd de aanhoudende geurhinder gelokaliseerd.
De verschillende werken om deze hinder op te lossen werden al uitgevoerd.
Bescherm je tegen tekenbeten !
Met het stijgend aantal tekenbeten neemt ook het aantal mensen met de ziekte van Lyme toe.
Bescherm je als golfer dus goed tegen deze parasiet!
Dit kan eenvoudig door het dragen van kledij die het hele lichaam bedekt en door het controleren op aanwezigheid van teken nadat je een rondje golf gespeeld hebt.
Gebeten ?    Teken beginnen pas na enkele uren bloed te zuigen waardoor ziektekiemen kunnen worden doorgegeven.
• Verwijder de teek zo snel mogelijk (binnen de 24 uur) om risico op besmetting te beperken.
• Neem de kop van de teek vast met een pincet en draai de teek eruit. Doe dit met een speciaal tekenpincet of tekenhaak, verkrijgbaar in de apotheek.
• Druk het lijfje niet in en neem de teek in zijn geheel weg. Blijft er een deel van de kop achter, wacht dan af en behandel de plaats met een eenvoudig ontsmettingsmiddel.
• Ontsmet de wond in elk geval nadien grondig.
• Contacteer een arts bij twijfel of vermoeden van besmetting.
• Opgelet: verdoof de teek niet vooraf met ether. De teek kan hierdoor besmet materiaal uitstoten!
New Season ; New Rules ; New Scorecard ; New Penalty Zones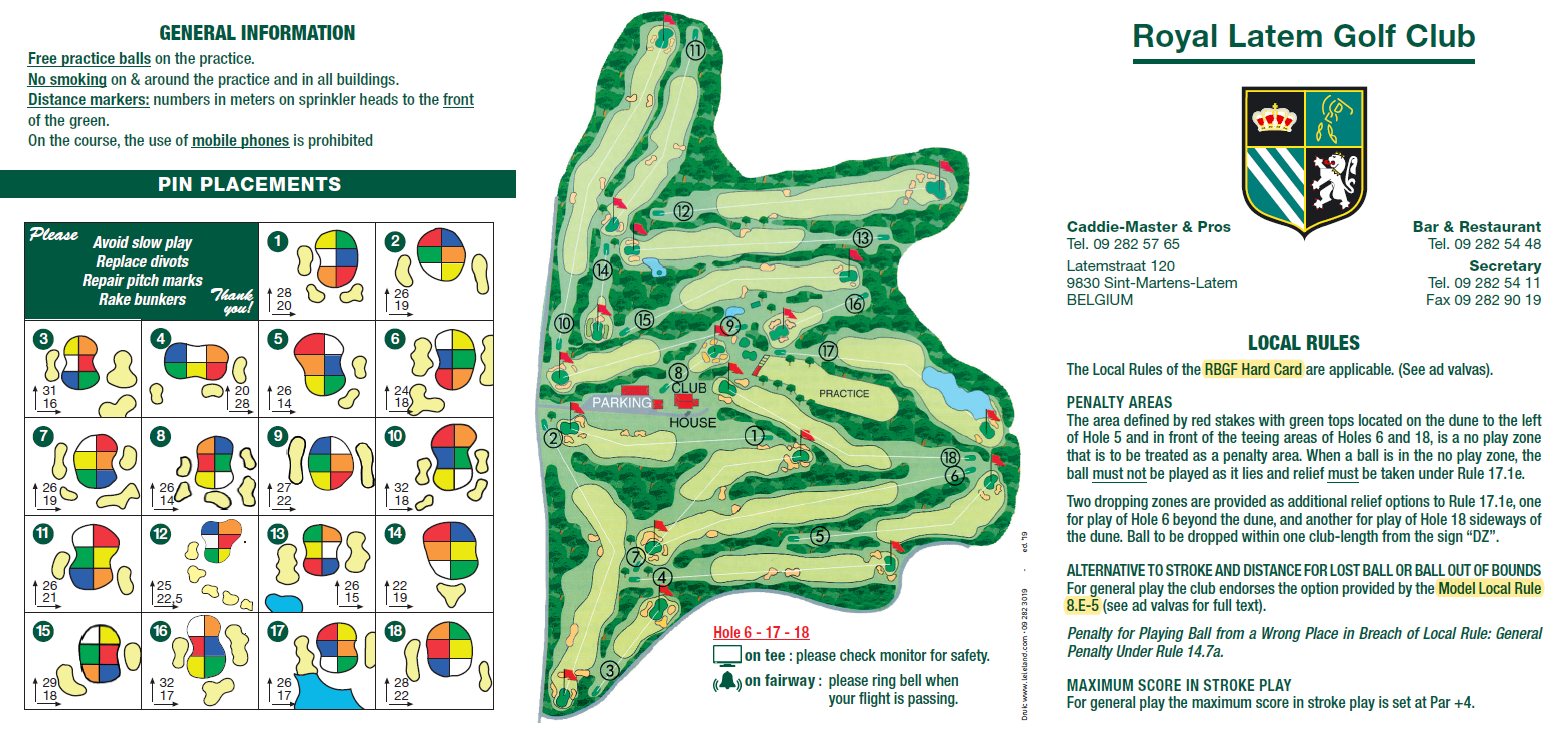 free choice of tee ?
New Rules of Golf 2019
News from the Royal Belgian Golf Federation
Le Golf Quiz est à nouveau en ligne sur notre site: www.golfbelgium.be
Vous le trouvez sous la rubrique "jouer" et puis sur "testez vos connaissances".
Les questions ont été adaptées aux nouvelles Règles 2019.
————————————————————————————————————————————
De Golf Quiz is terug online op onze site. www.golfbelgium.be
U kan het vinden onder het onderwerp "golfen" en dan vervolgens onder "test uw kennis".
De vragen zijn aan de nieuwe Regels 2019 aangepast.
Now available in Pro Shop (14 eur) : French + Dutch edition
New in 2018 : The Belgian Golf League
Royal Latem GC participe à The Belgian Golf League

Une nouveauté 2018 !
Belgian Golf League ?
Différents clubs se rencontrent tout au long de la saison, comme dans d'autres sports (football, hockey, etc.), à travers leurs meilleurs joueurs messieurs.
Cette compétition se déroulera chaque année (de mai à novembre), sous la forme d'un championnat simple et linéaire.
Chaque rencontre se jouera en confrontation directe entre 2 clubs en single Match Play Brut. Chaque équipe est composée de 5 joueurs, avec un handicap maximum de 12,4.
Le match est joué dans l'un des deux clubs en compétition. Le choix du parcours est défini par un tirage au sort (50% Home – 50% Away).
Il y a 11 clubs concernés en 2018 :
– Golf Club 7 Fontaines
– Royal Golf club de Belgique
– Golf de La Bruyère
– Cleydael Golf & Country Club
– Golf de L'Empereur
– Royal Golf Club du Hainaut
– Golf Château de La Tournette
– Golf de Rigenée
– Rinkven Golf Club
– Royal Waterloo Golf Club
– Royal Latem Golf Club
Notre team captain : Julien Richelle
julienrichelle@hotmail.com
0474/60.15.23
En annexe vous trouverez plus de détails ainsi que le planning.
Les heures de départs de ces rencontres seront en principe 8h > 8h30.
Nous vous invitons à venir supporter notre équipe !
Henri Cnops
Captain
Welcome
Dear Members,
Welcome to the brand new website of your Royal Latem Golf Club : created on a new platform, offering responsive screens, GDPR ready, …
Many thanks to my colleagues who participated in bringing this project to life :
Michel Verheughe, general coordination ; Michel Willems, legal/GDPR ; Pascale Reyniers & Henri Cnops ; and especially to Christophe Bonte, our dedicated & skilled webmaster.
A website is a continuous work in progress, it never ends , it's never finished.
Therefore : ideas/suggestions/comments ? : don't hesitate !
Hope to see you soon,
Vincent Boes
President